English Newspaper Advanced / National News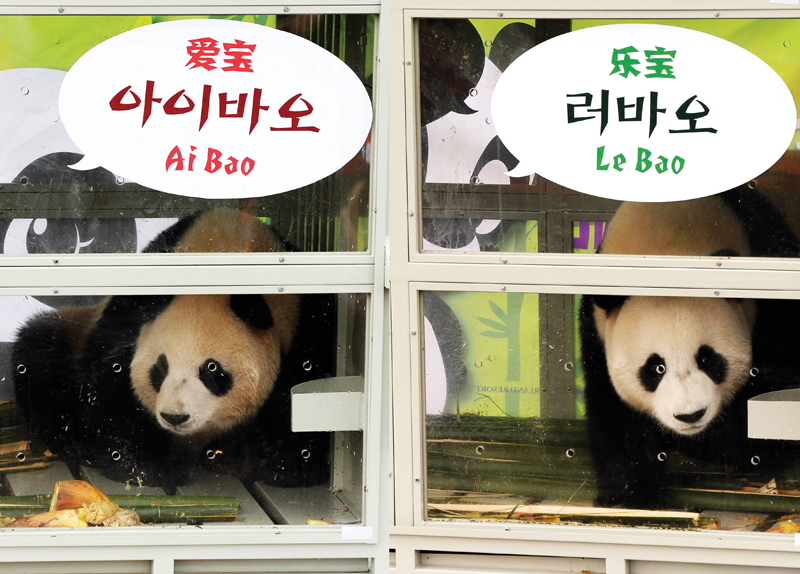 A pair of giant panda bears arrived from China to Korea on Mar. 3. Le Bao, the three-year-old male, and Ai Bao, two-year-old female, arrived at Incheon International Airport after three hours of flight from China's Chengdu Airport on a special Korean Air charter and were transported to Everland Park in Yongin, Gyeonggi Province where they will stay for the next 15 years.
The "VIP guests" from China received very special treatment throughout their journey. Everland carried out a special operation to transport them safely.
They were carried in a cage measuring 185 cm long, 120 cm wide and 130 cm tall specially built for them. The 300 kg cage perfectly prevents any vibration.
Korean and Chinese handlers and veterinarians accompanied the pandas the whole way. The veterinarians performed health checks every half hour during the flight.
Air pressure in the cabin was maintained at the same level of passenger airplanes and the temperature at 18 degrees Celsius which is favored by pandas. A vibration-free vehicle carried the pandas from the airport to Everland at a maximum consistent speed.
The pandas were a present from China. Korea became the 14th country in the world with the endangered bear species.
Thomas Kim
For The Teen Times
(ttt@timescore.co.kr)
Comprehension Questions:
1.Who were the special guests from China? Describe them.
2.How were they transported from China to Korea?
3.How did they make sure that the pandas are comfortable
Debate Questions:
1.Why do you think the pandas were sent to Korea?
2.Why do they need to make special arrangements to bring them to Korea?
3.If you were to suggest an animal from Korea that would be sent to another country, what would it be? Where would you send it? Explain your answer.u?